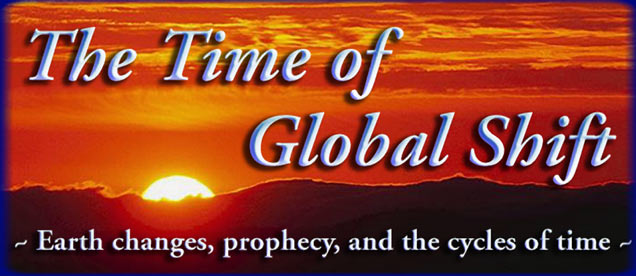 THE TIME OF GLOBAL SHIFT

Humanity is on the threshold of a stupendous transformation, both physical and spiritual. There is great evidence from breakthrough physics research, ancient prophecy and modern Ufology/Metaphysics to support this.

The Time of Global Shift is an interactive, multi-media touring seminar presented in major cities across North America to address Earth changes, prophecy and the cycles of time. The next events in Canada will include two days of lecture and video, covering a wide range of topics. Our goal is to give you a holistic, spiritual view of the present time on Earth, and the role we each can play to support current global transformation

No events are currently scheduled, but you may purchase video and audio tapes of previous events from Scott Mandelker's Online Store.

CORE TEAM
| | | | |
| --- | --- | --- | --- |
| | | | Mark Comings on Earth and solar changes |
| | | | |
| | | | Scott Mandelker on UFOs and metaphysics |
| | | |
| --- | --- | --- |
| | | |
| Mark Comings | | Scott Mandelker |

OUR BASIC MESSAGE
We believe the Earth today is on the verge of a critical transformation in both its physical form and energy body -- a shift which has been long-predicted throughout the world.

We believe humanity is at the end of a major cycle of human soul evolution, and that we now stand before a radically new phase of planetary life -- literally a renaissance of civilization.

And yet, we each have the freedom to decide if we will join in this momentous event -- for despite the grandeur of the moment, we believe the keys to participation are quite simple...

Each of us holds the keys, as they are but elements of our own true nature: basic human kindness, an open heart and mind, and the desire to build a loving world society. As you likely know, it is a special time on Earth, a time of global shift.


ABOUT THE SPEAKERS
MARK COMINGS is a physicist, mathematician and mystic focusing on the new science of time, the relationship between consciousness and matter-energy, and the consequent re-visioning of space. For several years he was a Research Associate with ISSO (International Space Science Organization) in San Francisco, and he is currently involved in world community building, spiritual education, and the union of science and spirituality. With constant travels around the US and abroad, he is a true peripatetic philosopher, and may also be the world's first post-quantum physics physicist.

SCOTT MANDELKER (Project Director, UFO/Metaphysics) has an MA in Counseling, a PhD in East-West Psychology, and over 20 years' experience in Buddhism and Eastern religion. The author of two books: From Elsewhere (1995) and Universal Vision (2000), he's spoken at UFO and New Age expos in the US, Japan and Israel, has appeared on more than 80 radio and TV shows and has given spiritual counseling for the last 10 years.

IF YOU WOULD LIKE TO VOLUNTEER

If you would like to volunteer for upcoming events, please contact Scott Mandelker directly:

RELATED MATERIAL


PRIVACY STATEMENT

Concerned about privacy? Your personal information is never disclosed to third parties for any reason, and is simply used to fulfill orders, process payments, contact you about orders, and send you information about our work and upcoming seminars.

To learn more about our work please explore this site!

COPYRIGHT © WWW.TIMEOFGLOBALSHIFT.COM, 2001-2004
ALL RIGHTS RESERVED